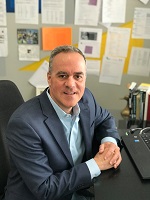 I have been blessed in my life to have spent the last 28 years building relationships. Relationships that have sustained and grown my family, my business, my friendships regardless of the season. People often ask me what the "it" factor is, the defining characteristics of success. I have the unique opportunity to sit on the outside of fortune 50 and startups, advise CEOs, technicians, and new college grads, and I have always tried to think about what makes these folks successful.
The defining characteristic, regardless of role or circumstance, is those that care about the relationship. Seasons come and go, organizations rise and fall, but relationships are what sustain us. They push us to get better, they pull us through the hard and dark times, and the intrinsic ability to develop and maintain those relationships are what make the good into great.
Whether you are in the best spot of your career, or the darkest place in your life, I want you to remember that the relationship is what matters, that is what endures forever.
Share with someone that has embodied this in your life!
Peace,
Michael