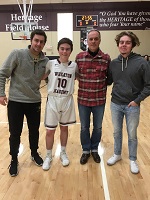 Michael Nenni discovered a passion as an entrepreneur early in his career when he found his desire to help others as they faced cross-roads in their lives. Michael developed and honed a unique skill set allowing him to identify innate strengths and weaknesses in individuals and coach them to find their passion. Michael is considered an exceptional relational leader providing his team and clients with concise and strategic direction.
Expertise
For over 30 years, Michael has worked as a consultant to the Energy Services industry helping companies grow their business through value-added solutions. At Nenni and Associates, Michael has helped start-up to Fortune 100 clients identify and develop leadership, build employment brand marketing, refine corporate cultures, overcome competitive pressures, and improve overall performance. As an industry subject matter expert, Michael is considered a true partner to many C-level and V-level leaders and their organizations.
Foundations
Michael is an active member of his personal and professional community where he is a member, officer, and Board of Director in organizations such as NAESCO, GovEnergy, and Energy Coalition. Michael has a Bachelors' Degree from Southern Illinois University.
"I have used Michael and his team both as a hiring manager and a candidate.  His team has unparalleled connections and works with the real decision makers in the industry.  As a hiring manager Michael's team knows and markets the top candidates in the industry – True "A" Players.  As a candidate I can attest to the high level of personal attention, follow-up, and coaching you will receive.  I give Nenni and Associates my full and complete endorsement."
King M. – Sales Director (Hiring Manager) and Sr. Account Executive (Candidate)